OK, here is a brief summary of my vacation with Paige. I wanted to go more in depth - and maybe I will at a later time - but I start my next semester tomorrow and have too much to do.
So, we left Utah on Saturday, August 16th. We drove 12 hours to Portland, OR. where we stayed (just) one night. We walked around the city for about an hour and got back on the road.
We then drove 3 hours up to Seattle (actually Kent), WA. Both Paige and I agree that, out of the place we were able to visit on our road trip, Seattle was
by far
the best. The people were nice. Everything seemed to click. It was my favorite city aesthetically and it just felt right. I would love to live there. We stayed in Washington for 4 nights before continuing on, but before leaving, we were able to see RADIOHEAD for the first time ever! And I must say, it was the best show I have ever seen in my life. It was amazing. I will spare details as I am strapped for time (there will probably be grammatical errors by the dozens), but I managed to list the setlist below.
On the 21st - the morning after RADIOHEAD - we drove 7 hours to Grants Pass, OR. This place was terrible. Maybe we just had a bad experience, and it was nothing on its own, but the people were odd, the town was boring, and, other than some nice sites, it wasn't worth the stay. The hotel wasn't anything to brag about, and we were a even a bit scared for our safety at times. We only stayed here one night.
On the 22nd, we drove 9 hours into San Francisco. Unfortunately, we weren't able to spend much time here, either. We had to get to LA for the second RADIOHEAD show. We stayed in a fancy hotel that we were able to get on discount (Paige forgot her pillow, whoops!) and we spent about 4 hours the following day site seeing (hopefully pictures for the entire vacation will follow soon - we took almost 400!).
But most importantly, before we got to San Francisco we drove through (and stopped at) The Redwoods in Northern California. We saw the "Avenue of the Giants". It is worth posting a picture here.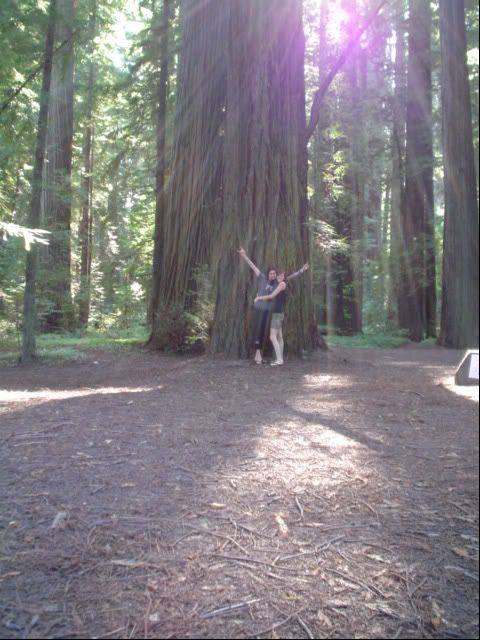 After 4 hours in San Fran, we drove 6 hours to Los Angeles: the down where spray paint/graffiti covers
EVERYTHING!
LA was pretty cool, and we saw RADIOHEAD once again. The show was amazing, of course, but the Washington show was better. I've listed the setlist for this show below as well. Before the show we visit the Elliott Smith memorial wall (it was on the cover of his album "Figure 8". It's worth a picture (I told you there is graffiti on EVERYTHING).
The next morning, Aug. 25th, we drove 9 hours home. Exhausted and ready to rest. But alas, there is no rest anytime soon, as today we had to prepare for school, which starts tomorrow!
Enjoy the RADIOHEAD setlists. I hope more pictures will follow.
RADIOHEAD setlist for Auburn, WA, August 20, 2008.
15 Steps
Reckoner
Optimistic
There There
All I Need
Pyramid Song
Talk Show Host
National Anthem
The Gloaming
Videotape
Lucky
Faust Arp
Jigsaw Falling Into Place
Climbing Up The Walls
Dollars & Cents
Nude
Body Snatchers

(Encore 1)

How TO Disappear Completely
Weird Fishes/Arpeggi
Idioteque
In Limbo
Street Spirit (fade out)

(Encore 2)

You And Whose Army?
No Surprises
Everything In Its Right Place

--



RADIOHEAD setlist for Los Angeles, CA, August 24th, 2008.



15 Step
There There
Morning Bell
All I Need
Pyramid Song
Nude
Weird Fishes/Apreggi
The Gloaming
The National Anthem
Wolf At The Door
Faust Arp
Exit Music (for a Film)
Jigsaw Falling Into Place
Idioteque
Climbing Up The Walls
Bodysnatchers
How To Disappear Completely

(Encore 1)

Videotape
Paranoid Android
Dollars & Cents
Street Spirit
Rechoner

(Encore 2)

House Of Cards
Lucky
Everything In Its Right Place


PS: At the Washington show Thom messed up and it was pretty funny. Here's a video for it (thanks Paige).